Team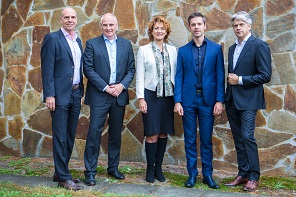 Advisory Board
Alan Barge, Senior Vice President at ASLAN Pharmaceuticals and Chief Medical Officer at Carrick Therapeutics. Dr. Barge was trained in medicine at Oxford and London, and specialised in haematology and oncology. As former VP Oncology and Infection at AstraZeneca, Dr. Barge has great oncology drug development experience. Before joining AstraZeneca, Dr. Barge spent 8 years at Amgen as European Medical Director.
Gabriele Dallmann, Founder of Biopharma Excellence, EUCRAF and Pharmatching.com. Dr. Dallmann has over 25 years of experience in facilitating drug development and is an expert in the field of Regulatory Affairs, having worked amongst others at Committees of the European Medicines Agency (EMA) and at the German Paul-Ehrlich-Institut. Dr.Dallmann is biologist by training with a PhD in immunology from Berlin University (Charité).
Kees Melief, Prof. Melief is CSO of ISA Pharmaceuticals in Leiden, The Netherlands. Before becoming CSO of ISA, Prof. Kees Melief was Head of the Department Immunohematology and Bloodbank of the University Hospital in Leiden and Professor of Internal Medicine. Prof. Melief is a board member and advisor of multiple organizations and companies and is considered one of the world's most renown tumor immunologists.
Herman Spolders, (co)-founder of companies like Oncomethylome, Pluriomics and NCardia. He has 40 years of experience in the pharmaceutical and biotech industry in Europe and the U.S. He served on multiple boards and in various executive positions. Throughout his career, Herman Spolders has been instrumental in starting and growing biotech companies, IPO's, forging large pharma-biotech collaborations, defining new product opportunities with a focus on clinical diagnostics for cancer or infectious diseases. He studied biochemistry at the University of Amsterdam and graduated at INSEAD.