ISA Pharmaceuticals' Chief Scientific Officer Prof. Cornelis Melief Receives ESMO Immuno-Oncology Award 2018
November 13, 2018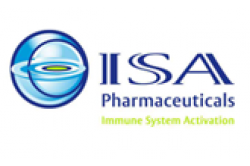 Leiden, The Netherlands, November 13, 2018 – ISA Pharmaceuticals B.V., a clinical-stage immuno-oncology company, today announced that its Chief Scientific Officer Prof. Cornelis Melief has been selected by the European Society for Medical Oncology (ESMO) to receive the 2018 ESMO Immuno-Oncology Award in recognition of his life's work in studying the interactions of the immune system with cancer. He will receive the award during an official ceremony at the opening keynote and award lecture of this year's ESMO Immuno-Oncology Congress in Geneva, Switzerland, on December 13, 2018 (01:30-01:45 pm CET, Hall A2 – Room A). The title of his lecture will be "Combination immunotherapy of cancers caused by high risk human papilloma virus".
Prof. Melief will be the second recipient of the ESMO Immuno-Oncology Award, which was created in 2017 in commemoration of European cancer research and treatment pioneer Prof. Georges Mathé, a founding member of ESMO.
In addition to his role at ISA Pharmaceuticals, Prof. Melief is Professor Emeritus in tumor immunology at the Leiden University Medical Center in the Netherlands. He focuses on the development of effective immunotherapies for virus-induced tumors and has created the concept of synthetic long peptide (SLP) vaccines for the treatment of cancer patients. Prof. Melief and his team were able to show the clinical effectiveness of these therapeutic vaccines in patients with pre-malignant lesions caused by Human Papilloma Virus type 16 (HPV-16).
Among the most promising results obtained to date, Melief and his team found that a combination of SLP vaccination and standard chemotherapy strengthened cervical cancer patients' immune response and prolonged their survival. They further discovered that a similar effect could be achieved among patients with HPV-related head and neck cancer by administering the vaccines in conjunction with immunotherapy in the form of immune system boosting monoclonal antibodies.
Prof. George Coukos and John Haanen, Scientific Co-Chairs of the upcoming congress, outlined the reasons for nominating Cornelis Melief:
"Professor Melief dedicated his career to understanding how the immune system, specifically cytotoxic lymphocytes, interact with cancer, and used this knowledge for the development of new therapeutic cancer vaccine strategies," said Coukos.
"With this award, we are recognizing him as a true pioneer in the field of cancer immunology, who has trained and inspired a whole generation of young scientists with his research," Haanen added.
"This is a great honor and a wonderful recognition of the fact that after many years of concept building and evaluation in lab models and investigational trials, we have finally arrived at immunotherapy approaches that can make a difference for patients," said Prof. Cornelis Melief. "To me, this award also means recognition of the outstanding teamwork delivered by talented investigators at Leiden University Medical Center and ISA Pharmaceuticals as well as by many medical oncologists in the Netherlands, Belgium and the USA."
###
About ISA Pharmaceuticals
ISA Pharmaceuticals B.V. is an immunotherapy company developing rationally designed, fully synthetic immunotherapeutics against cancer and persistent viral infections. The company has built a proprietary immunotherapy platform based on the Synthetic Long Peptide (SLP®) concept and AMPLIVANT® technology. SLP® immunotherapies are designed to fully harness and direct the body's own defenses towards fighting the disease. In December 2017, ISA Pharmaceuticals closed a clinical immuno-oncology collaboration with Regeneron to advance its SLP® lead compound ISA101, an immunotherapy targeting human papillomavirus type 16 (HPV16)-induced cancer, in combination with Cemiplimab (REGN2810), a PD-1 (programmed cell death protein 1) antibody. In addition, ISA develops SLP® immunotherapies to advance novel treatment options for orphan indications.
For more information, please visit www.isa-pharma.com.
SLP® and AMPLIVANT® are registered trademarks in Europe.
Contact & Media Inquiries:
akampion
Dr. Ludger Wess Ines-Regina Buth
Managing Partner Managing Partner
Tel. +49 40 88 16 59 64 Tel. +49 30 23 63 27 68
info@akampion.com