Inthera Bioscience AG expands management team with seasoned professionals and secures €4.7 million second tranche of €9.6 million Series A financing
June 26, 2018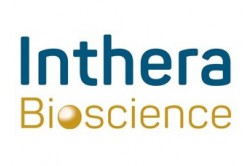 Wädenswil, Switzerland, June 6th, 2018
Inthera Bioscience AG, a pre-clinical stage oncology company targeting the inhibition of protein-protein interactions with innovative small molecule chemistry, today announced that three senior Pharma and Biotech Industry members joined its management team.
Bernd Hentsch joins the company as Chief Development Officer, Ralph Lindemann as Chief Scientific Officer and Monique Schiersing as Chief Operating Officer.
The company is also pleased to announce that it secured the second tranche of its Series A financing, bringing the total amount to €9.6 million.
"I am very pleased to see such an experienced group of executives joining Inthera Bioscience.  I am convinced that this high caliber team under the leadership of founder and CEO Uli Kessler combined with our unique technology platform and projects make Inthera one of the most exciting and promising Biotech companies in the oncology space in Europe", said Klaus Schollmeier, Chairman of the Board of Directors.
"Securing the milestone driven second tranche of our Series A financing represents the validation that our platform can deliver drug leads targeting specific intracellular protein-protein interactions. These lead candidates have shown broad anticancer effects in preclinical studies with complete tumor eradication in animal models of solid tumors.
It also shows the confidence of our investors M Ventures, Aglaia BioMedical Ventures and Novo Seeds in the highly innovative approach we are taking to address unmet needs in the field of oncology" says CEO Uli Kessler. "We are in a strong position to select a first orally available small molecule drug candidate soon and move it efficiently towards the clinic".
Bernd Hentsch, Ph.D. has held various senior positions in the European Biotech industry. Prior to joining Inthera Bioscience he was Chief Development Officer at 4SC AG, a German clinical stage oncology company and TopoTarget A/S, a Danish clinical stage oncology company. Prior to TopoTarget A/S, Bernd has held other R&D related positions, e.g. in Germany at Merck KGaA, Darmstadt, the German Cancer Research Center, Heidelberg, and at the Walter and Eliza Hall Institute in Melbourne, Australia.
Ralph Lindemann, Ph.D. joins Inthera Bioscience from Merck KGaA, Darmstadt, Translational Innovation Platform Oncology. He has 15 years of experience in translational research and drug discovery and an academic track record in chromatin-based therapeutics.
Monique Schiersing, M.Sc., MBA served previously as Investment Director at the Roche Venture Fund, F. Hoffmann – La Roche AG's corporate venture fund. In this role Monique served as Director on the board of various Biotech companies in the US as well as in Europe, amongst others Macrolide Pharmaceuticals, Inc., Minoryx Therapeutics S.L., or mySugr GmbH. Prior to this role, Monique held positions as Principal at BankInvest in Copenhagen and Global Alliance Director at Roche Pharma Partnering in Basel.
About Inthera Bioscience AG
Inthera Bioscience is a private biopharmaceutical company located in Wädenswil, Switzerland and focused on developing inhibitors of intracellular protein-protein interactions employing a proprietary technology platform. Rationally designed, these orally bioavailable molecules display hot spot residues on a non-peptidic backbone merging the versatility of small molecules with the specificity of biologics. The broad applicability of the approach has been illustrated against several targets in oncology. The most advanced of these first-in-class therapeutics, an oral modulator of dysregulated transcription, is currently entering the preclinical development stage.
About M Ventures
M Ventures is the strategic, corporate venture capital arm of Merck. Its mandate is to invest in innovative technologies and products with the potential to significantly impact Merck's core business areas. From our headquarters in Amsterdam and offices in the US and Israel we invest globally in transformational ideas driven by great entrepreneurs. M Ventures takes an active role in its portfolio companies and teams up with entrepreneurs and co-investors to translate innovation towards commercial success. M Ventures has a significant focus on early-stage investing and company creation including the creation of spin-offs to leverage Merck's science and technology base.
About Aglaia BioMedical Ventures
Dutch venture capital firm Aglaia – through its Oncology Funds I and II – invests in ground-breaking technologies that have the potential to translate into solutions for the prevention and treatment of cancer. Aglaia is actively involved in the companies it invests in and works closely with scientists and management teams in the early stages of development. By translating high-potential research into commercially and clinically successful products Aglaia gives meaning to the concept of impact investing combining financial and social returns. www.aglaia-biomedical.com
About Novo Holdings and Novo Seeds
Novo Seeds is the early-stage investment arm of Novo Holdings (www.novoholdings.dk). Novo Holdings is a private limited liability company wholly owned by the Novo Nordisk Foundation. The company is the holding company in the Novo Group, comprising Novo Nordisk A/S, Novozymes A/S and NNIT A/S, and is responsible for managing the Foundation's assets. In addition to being the major shareholder in the Novo Group companies, Novo Holdings provides seed and venture capital to development-stage companies, takes significant ownership positions in well established companies within the life sciences and manages a broad portfolio of financial assets.
For more information please contact:
Inthera Bioscience AG
Dr. Ulrich Kessler
Chief Executive Officer
ulrich.kessler@intherabio.com
Phone: +41 43 477 94 66