InteRNA and UMC Utrecht Publish Preclinical Evidence for Potential of miRNAs in Treatment of Epilepsy
May 15, 2019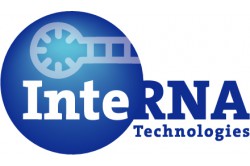 Utrecht, The Netherlands, May 15, 2019 – InteRNA Technologies announced today the recent publication of data from a collaboration with University Medical Center (UMC) Utrecht in Journal of Neuroscience showing that the downregulation of miR-135a levels can reduce seizure activity after the onset of spontaneous recurrent seizures (SRS) in chronic-stage Mesial Temporal Lobe Epilepsy (mTLE) in mouse models. miR-135 is a microRNA (miRNA) known to control neuronal morphology and synaptic function that is upregulated in neurons in the epileptic brain. The data support the overall potential of miRNAs as a treatment modality in complex diseases and also underscore InteRNA's expertise in the application of miRNAs as a new therapeutic approach.
The paper provides novel insights into the pathological mechanisms of mTLE, which remain poorly understood to-date. In the study, it was shown for the first time that miR-135a is significantly overexpressed in human mTLE hippocampal samples and that the silencing of this specific miRNA in mouse models by an antimir drastically reduces the number, severity and time spent in seizures in the SRS stage, an advanced disease stage where current treatments fail to induce an effect. Furthermore, novel neuronal downstream targets of miR-135a were identified. In particular, the role of Mef2a, an activity-dependent transcription factor regulating synaptic strength, was investigated in closer detail. The data demonstrated that miR-135a and Mef2a show reciprocal expression regulation in TLE and that Mef2a is required for miR135a-induced dendritic spine changes in neurons that might induce synaptic defects involved in the pathomechanisms of TLE. The research paper titled, "Antagonizing increased miR-135a levels at the chronic stage of experimental TLE reduces spontaneous recurrent seizures" was published in Journal of Neuroscience on April 23, 2019.
"TLE accounts for a third of all epilepsies and available treatments lack disease-modifying effects and are ineffective in one third of all mTLE patients," commented Prof. Jeroen Pasterkamp, PhD, Department of Translational Neuroscience, UMC Utrecht Brain Center. "The data from this study indicate that targeting epilepsy-associated miRNAs has the potential to unlock a novel therapeutic entity and provides key insights into the disease biology of epilepsy."
Roel Schaapveld, CEO of InteRNA added: "The published data provide evidence that targeting a single miRNA could represent a new modality in the epilepsy field where current treatments are solely based on ion channel blockers that only relieve symptoms rather than provide curative effects. We are encouraged by the results of this study that further validate InteRNA's proprietary miRNA platform, which has the potential to target cancer, our primary focus, as well as other complex disease states outside of the realm of oncology."
About InteRNA Technologies
InteRNA is developing a pipeline of proprietary preclinical microRNA drug candidates targeting key processes in initiation and progression of human diseases, with a focus on cancer. Enabled with a 3rd generation drug delivery formulation, these miRNA compounds can mount a coordinated anti-cancer attack by engaging multiple signal transduction targets simultaneously. With this approach, we address the high need for novel therapeutics with improved efficacy and less drug resistance that benefit cancer patients.
Contact:
InteRNA Technologies
Dr. Roel Schaapveld, CEO
Phone: +31 (0)24 352 96 33
E-mail: schaapveld@interna-technologies.com
Trophic Communications
Dr. Stephanie May or Joanne Tudorica
Phone: +49 2388 7733 30 or +49 171 185 56 82
E-mail: may@trophic.eu or tudorica@trophic.eu